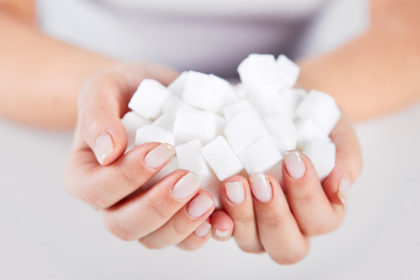 Does sugar addiction exist? Do you consider yourself addicted to sugar, or at least a little bit addicted to sugar?
Like most people, I use to be addicted to sugar.  Very addicted to sugar!
My sugar addition started early.  As a child I would spontaneously eat sugar-cubes- the one's intended for my mom's coffee.  In high school I had Sour Patch Kids and Pez for lunch more times that I'd like to admit.  
Then in university, I remember having such intense sugar cravings late at night that I would go out to the 7-Eleven in my pyjamas for a bag of chewy candy at 11pm. 
When the sugar cravings take over and are 'bigger  than you', there is an 80% chance that an organism is inside of you that is craving the sugar so that it can survive.
This organism is called Candida.  And, over 65% of North Americans have it because of the overuse of prescription antibiotics, antibiotics in our meat supply and the over consumption of refined sugar. It is normal and healthy to have a small amount of the Candida bacteria in the intestinal lining as part of a healthy intestinal micro biome.  It's the overgrowth of Candida we want to avoid as it leads to many problems.  
If you have any of the symptoms below you may be dealing with Candida:
Intestinal distress like constipation, bloating or gas

Mental/emotional aspects like depression and anxiety

Mental fog you simply can't shake

Debilitating fatigue/exhaustion

Intense sugar cravings 

Chronic sinus infection

Excess mucous

Nail fungus

Yeast infections 

Persistent food or environmental allergies

White coating on the tongue 
There's so much we can do to eradicate Candida and stop the sugar cravings.  A Candida Protocol is a multi-step process that would take about 6-8 weeks to complete and involves the following steps:
Starve the candid through diet modification.

Eliminate gluten & dairy.

Kill the Candida overgrowth through supplementation and antifungals. 

Rebuild the intestinal lining and hydrochloric acid.
Generally the food part of the protocol that I put my clients on is:
40% clean protein

40% vegetables

10% low glycemic index carbs 

10% nuts and seeds
The reason most 'cleanse' programs don't work long-term is they only address part of the problem.  Sugar cravings and Candida need a systemic approach to be successful long-term.
If you're struggling with sugar cravings, completing a Candida protocol the right way will help you overcome sugar addiction for good. It is definitely possible to stop your sugar craving and feel fabulous from the inside out.
You can also look for updates from my newsletter about when I'm teaching classes at Goodness Me- Barrie.  I'm there teaching classes once a month and one entire class is devoted to sugar and candida.  Check my social media for updates or subscribe to my newsletter.