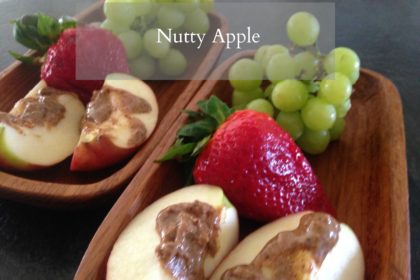 Easy, quick and sugar-balancing snack ideas are an important way to stay energized throughout the day while staying committed to healthy eating that nourish your body and your busy family's.
Reaching for healthy snacks can be really easy when you stock your cupboards with some essential ingredients.  Finding some time each week to get these goodies into your pantry will make your entire week easier as it will ensure that you reach for healthy options and not the typical grab and go snacks like granola bars or cookies.Generally, these are filled hydrogenated and trans fats, refined sugar, and chemical preservatives.  although convenient, they're not supportive of sustained energy, good digestion and health.
 
Here are a few snack ideas to keep in mind when your energy is waning at 3 pm and you'd rather not reach for a sugary snack.  
 
Home Made Trail Mix
Combine raw nuts and seeds of your choice (pumpkin, sunflower, almonds, walnuts, pecans) and mix with shredded (sulphite free) coconut flakes and goji berries or mulberries.
Apple and Almond Butter
Gala, Pink Lady, or Fiji apples sliced into quarters topped with almond butter.  Served with other fresh fruits such as grapes and berries.(Pumpkin butter works well with apple too)
Guacamole Romaine Lettuce Boats
Cut and core 1 avocado, mash in a mixing bowl using a fork.  Add chopped cilantro (as much as you'd like- the more you add the more detoxifying this snack is).  Add 1 tablespoon of olive oil and the juice of 1 medium lime, sea salt to taste.  Mix together.  Place in the centre of a romaine lettuce leaf and sprinkle with hemp seeds.
Nori Wrap
2 nori, sea vegetable wraps with shredded carrot, red clover or alfalfa sprouts, hummus and avocado.  Roll into a wrap and enjoy!
BBB (Bliss Berry Bowl)
1/4 cup of sliced almonds and 1 cup fresh berries in a bowl mixed with 1/4 a cup of pure organic coconut milk, 1/2 tsp. cinnamon and 1/2 -1 tsp. raw cacao powder. Mix together . . . bliss.
Veggies & Hummus
A variety of sliced veggies such as red pepper, carrot, cucumber, and celery and 2 tbsp. hummus for dipping.
Chocolate Protein Smoothie
1 Scoop of chocolate or vanilla protein powder (my favourite is Sunworrior), blended with ice, coconut or almond milk and 2 tsp. of raw cacao powder (1/2 banana or 1/4 avocado optional for a creamier texture).  You can blend this in the morning and take it to go for later in the day, or blend it in the office kitchen.
By planning to include some of these snack ideas in your daily routine you'll have the mid-afternoon energy you need without the coffee or energy drinks and you'll be nourishing your body with the building blocks it needs for optimum health.