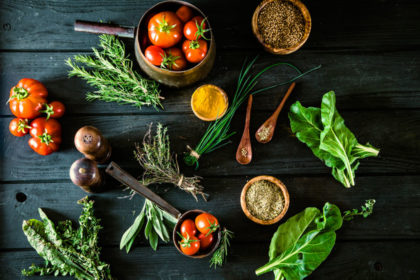 There's a lot of buzz about superfoods.  And there's good reason.  Now more than ever, we need to provide our bodies with food packed with nutrients that offer the the ability to heal, repair, manage stress, maintain hormone levels and manage mood. 
 
Superfoods are a special category of foods found in nature.  By definition they are calorie sparse and very nutrient dense- meaning they deliver a lot of nutritional value for a very low caloric cost.  They are a superior source of anti-oxidants and essential nutrients (nutrients we can not make ourselves).
 
 
While many of us are adding more salads and vegetables to our diets, it's worth noting that concern over the quality of foods grown in mineral depleted soils makes Superfoods a good choice. 
Intensive farming practices over the last one hundred years has seriously depleted our soils of nutrients that we relay on including magnesium, calcium, zinc, selenium, chromium, and potassium.  These nutrients help us in many, many ways including aiding in sugar metabolism, boosting our immune system and keep our heart healthy. 
 
Superfoods are not a trend.  Many of them have been around for thousands of years.  Many can transform your health by offering medicinal benefits and optimizing your nutritional status.  The important thing to remember is that superfoods do not always refer to exotic and expensive foods, many superfoods are found at your local grocery store or farmers' market at affordable prices. 
 
How Do Superfoods Help Us?
 
Reactive, unstable and dangerous molecules called free-radicals make their way in and around our body each day.  We inject substances that become free radicals in our body from pesticides, plastics, industrial chemicals and pollution.  We even produce them quite naturally as a byproduct of our own metabolism and digestion. 
 
Antioxidants come to the rescue by neutralizing free radicals and preventing damage to your cells.  These cancer fighting and immune building properties are found in abundance in fruits and vegetables. 
 
The American Journal of Clinical Nutrition lists the following foods as having the highest level of antioxidants:
 
blackberries, pineapple, walnuts, oranges, strawberries, red plum, artichokes, pinto beans, spinach, cranberries, raspberries, kiwi, blueberries, red potatoes,  ground cloves,sweet potatoes, prunes, red peppers,  red cabbage, broccoli
Superfoods also offer an abundance of minerals.  Some of the more common minerals offered are copper, manganese, iodine, iron, selenium, potassium, magnesium, calcium, and phosphorus.  Superfoods are naturally high in vitamins too.  Vitamins are building blocks to our health and essential in a variety of metabolic processes.  Some, such as the B vitamins are essential to keeping the nervous and cardiovascular system working properly and help you manage stress, some act as antioxidants such as vitamin E, C and A.  With the exception of B vitamins, which can be manufactured by your body in the small intestine, we cannot produce our own vitamins and must get them from our food. As vitamin content decreases because of poor soil quality, it makes sense to reach for superfoods when they're available. 
 
 
My favorite superfoods include the following:
 
Bee products: raw honey, royal jelly, bee pollen, propolis

Berries: blueberries, strawberries, raspberries, black berries

Spirulina & Chlorella (blue/green algae)

Raw cacao

Chia seeds

Olive oil & Coconut oil

Kale and other dark green leafy vegetables such as collards

Pumpkin & sunflower seeds

Hemp seeds

Flax seeds

Quinoa
 
There are many other foods that offer super nutrient value- think fruits and vegetables, sea vegetables, nuts and seeds and whole foods.
 
Remember a superfood contains many beneficial nutrients that help combat nutritional stress. The following 5 recipes put these powerful foods to work, unlocking their potential to fill nutritional gaps, turn on healthy gene expression and jumpstart and maintain physical and mental wellbeing.
_

_________________________________________________________________________________
Here are some recipes to start getting superfood nutrition into your diet.
__________________________________________________________________________________
Blue-Green Algae
This sea vegetable is loaded with vitamins, minerals and enzymes.  Blue-green algae is touted for its high DHA and EPA content (that's where fish get their DHA) and protein content, helping to nourish brain cells and restore biochemical balance. 
Blue Green Smoothie
1 orange, juiced

1 grapefruit, juiced

1 mango peeled and pitted

2 capsules of blue-green algae, or 1 tsp. E3 Live, or 1 tsp. spirulina
Blend all ingredients and enjoy!
Cacao
Raw, organic cacao bean is rich in minerals such as magnesium and iron.  Traditionally used as a medicine delivery system, cacao amplifies any food it is consumed with. Cacao butter is an excellent source of betacarotine, protecting skin from sun damage and premature aging.
Mind Chip Smoothie
1 cup coconut milk

6-7 mint leaves

5 ice cubes

Pinch of vanilla powder (or extract)

1 tbs. raw honey

1 tbs. raw cacao nibs (or substitute a tbs. raw cacao powder instead of nibs)
Blend all ingredients except the cacao nibs until smooth.  Add in cacao nibs and blend for a few more seconds.  Enjoy!
Chia Seeds
This gluten-free seed is a coveted ancient superfood.  Chia is not only a complete protein but boasts one of the highest food antioxidant levels and is a rich, whole food source of omega 3.  This seed can absorb up to 10 times its weight in water making it an excellent source of hydration and electrolyte balance.  Chia also slows the absorption of sugar into the bloodstream and binds to toxins to facilitate elimination.
Simple Chia Porridge
1/3 cup whole chia seed

1 ½ cps almond milk

1tbs. maple syrup

½ cup berries of choice

Dash of cinnamon
Combine all ingredients in a bowl and let sit for at least 10 minutes to thicken.  Stir and enjoy!
Bee Pollen
Bee Pollen is one of nature's most nutritionally complete foods.  It contains an abundance of vitamins, minerals and over 5000 enzymes making it a powerful fertility and vitality food.  Bee pollen is an easily assimilated protein that contains up to five times that of any animal product.
Blue Bee
1 cup hemp milk

1 cup of blueberries (frozen or fresh)

1 banana or 1/3 avocado

2 dates pitted

1 tsp. bee pollen (start with this amount and work your way up to 1 Tbsp.)
Blend all ingredients.  You may use the bee pollen as a delicious sprinkle on top ot blend it right in.
Goji Berries
Goji berries boost our naturally occurring human growth hormones, making it a top longevity food.  These berries are anti-inflammatory and combat free radical damage by increasing the body's production of superoxide dismutase, an enzyme that facilitates cell healing and athletic recovery.
Goji Sorbet
1 cup frozen berries of choice

2 frozen bananas (peel and freeze)

2 ounces of goji beries (fill 2 shot glasses)

½ cup – 1 cup of hemp or almond milk
Soak the gojis for 10 minutes then pour the water off to drink later.  Combine with the rest of the fruit in a high-speed blender.  Add milk, blend and nourish.